My vintage damask tablecloth arrived yesterday! It has been suggested that perhaps white, vintage linen isn't a brilliant idea for picnicking on (grass stains, grease marks, and so on), but I disagree. Why not have a little luxury?

On the other hand, I've also been hemming my gingham tablecloth and napkins. All eight napkins are now hemmed with tiny invisible stitches, and I'm about a third of the way round the 4'x 8' tablecloth.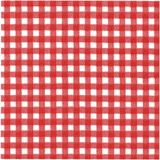 The weather's beautiful here (save for the thunderstorm last night) and I can't help but think how unfair it is that exams are in the summer. I want to be out picnicking! Still, I'm looking forward to my birthday picnic next weekend, and I'll just have to persuade everone that they need to take a break from revision.

Happy picknicking!