Welcome to
picnicaddicts!

To get the ball rolling, I'll pop up my 'first picnic of the summer' review.

Date: Saturday 6th May 2006
Location: Henrietta Park, Bath
Music: Sadly, none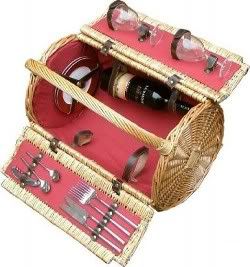 My new hamper arrived on Thursday, so I was eager to try it out. The sun had been absolutely glorious for the past few days, but sadly the weather appeared to be on the turn. Undaunted, I set about soliciting interest in a picnic. The response was lukewarm: "I've got too much work...", "Only if you bring it round to our house..." There was however, one taker. Chris, the brave soul, was prepared to brave the vagaries of the British weather with me.
Saturday morning dawned and as I had feared, the scorching sun had given way to ominous looking clouds. Adopting a facade of optimism, I ignored them and set off with a bag containing a large fluffy blanket in one hand, and the picnic hamper over the other arm. I hadn't realised quite how heavy the flippin' thing was.
Getting no more than a few curious looks, I arrived at Sainsbury's and the farmer's market with slightly bruised legs. (Actually, more than slightly; they're now all purple and yellow -- nice!) The market in Green Park Station was packed with shoppers and sellers alike, and I'm sure I managed to concuss a few small children who weren't looking where they were going with my unwieldy baggage. After recovering from the drooling catatonia induced by any such gathering of comestibles under one roof, I set about buying the most delicious treats I could find. Very little time (but a fair amount of money) later, my picnic hamper was packed with such goodies as asparagus and smoked salmon tartlets, olive plait, lardycakes and lovely juicy strawberries. I nipped in to Sainsbury's to get a bag of mixed, washed salad (not particularly local, or cheap, but convenient) and a bottle of wine, and we were set.
From there I wandered into town, stopping only to buy two metres of red gingham poycotton to use as a tablecloth. Bath, as usual, was heaving with people, and the Abbey courtyard was filled with crowds watching the street performers there. I settled down by the Guildhall to start munching my way through the strawberries and wait for Chris.
Luckily, Chris arrived before I had time to eat my way through the lot, and we wandered through the Guildhall Market, where I managed to restrain myself from buying any more food. Chris, being male, insisted on carrying the hamper, and I didn't argue. By the time we arrived in Henrietta Park, the sky was looking even more threatening, but this ensured that save a few solitary dogwalkers, we had the park to ourselves -- almost.
Just as we were unpacking the hamper, a man arrived with four cans of Stella Artois. He was rather a puzzle to us, as he didn't seem to be a drunk, and there are a lot of cheaper ways to get drunk than on four little cans of Stella, yet there he was, as ten to noon, looking slightly dishevelled and drinking in a public park. He then proceeded to open a can and spray himself with the shaken-up contents, so we let him borrow a teatowel. After drinking the remains of that can, he wandered off, not to be seen again.
We set about tucking in to our picnic, which included the cheeses I'd bought the day before. I'm currently enraptured by The Fine Cheese Co., a shop in Bath (which also sells mail-order!) selling (predictably) cheeses, but also, breads, crackers, pickles, pate... the list goes on. I didn't actually buy any cheese from them, but I did get some mustard and black pepper crackers and some quince puree to go with the manchego cheese I'd picked up from Nibbles Cheese in the Guildhall Market. And, seeing as it was reduced, I'd got White Stilton with mango and ginger from Nibbles and a pack of chorizo.
We couldn't eat half of what I'd brought, which suited me, as that was my supper sorted as well. I waited until after noon to open the bottle of wine, hoping that as my mother would put it, 'the sun was over the yard-arm', and once I'd got my head around the Waiter's Friend, it worked very well. Chris then proceeded to put me off my food by telling me about a friend of his sister's who'd been working as a waitress and had got her Waiter's Friend caught in her navel ring as she pulled the cork out. Ouch. I was remarkably restrained and only had two (little) half glasses, but we then found we couldn't get the (plastic) cork back into the bottle. This was particularly worrisome to me, as it had started to spot with rain (although we ignored this like hardened picnickers) and I didn't want my wine to be in anyway diluted.
We tried brute force, cunning and surprise attacks, but to no avail. We tried whittling the cork down with the foil cutter, but only succeeded in making a mess of the cork. Eventually we were forced to accept defeat and decant the wine into a plastic screwtop bottle.
The threatened rain never did really fall, but it did get a little too chilly for me. Chris begged to differ on this point, as he insisted he was perfectly warm enough in a T-shirt, while I was wearing a jacket. Still, all in all, it was a successful picnic, especially considering that very little planning went into it. In fact, I'm just polishing off the remains of the bread and cheese now. Yum!