Date: 1st June 2007
Location: Campus

My housemate had decided to have a picnic to mark the end of the year for his society, and foolishly decided to pass responsibility for the organisation of the event over to me (I say foolish because he doesn't know how much it's going to cost him yet).

Another housemate proclaimed that a picnic wasn't a picnic without a roast chicken, so I delegated that task to him:
M's Amazing Roast Chicken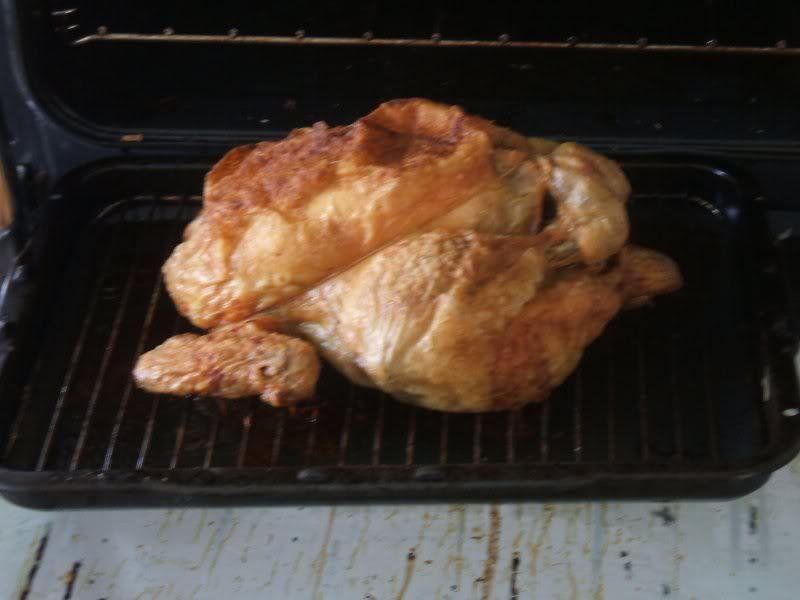 The weather's been iffy here recently, but I remained steadfast in my expectation of good weather and I was vindicated; it was a beautiful afternoon. Consequently, they all disappeared to soak up the sun and left me with the rest of the prep (not that I would have let them help) and to get it all up to campus on my own. I called a taxi. Guess who's going to pay for that.

We started with smoked salmon on bread and butter with lemon and coriander: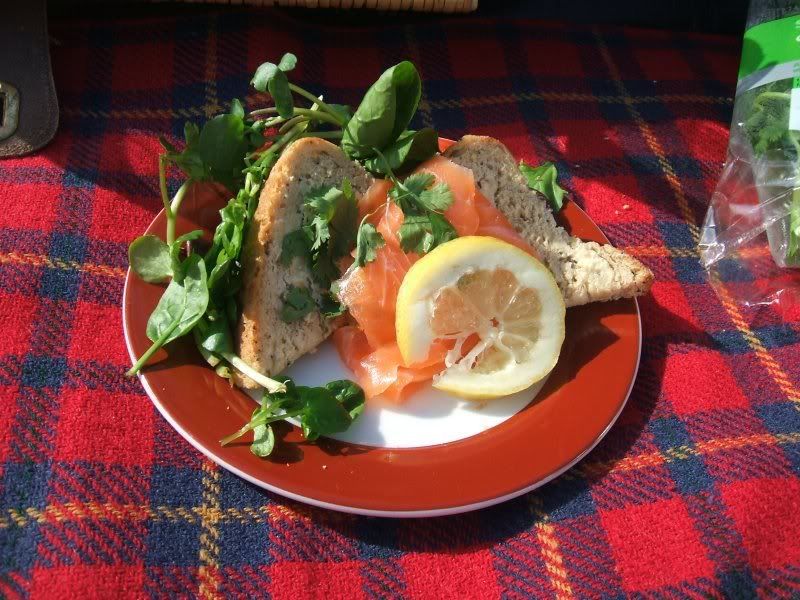 followed by roast chicken: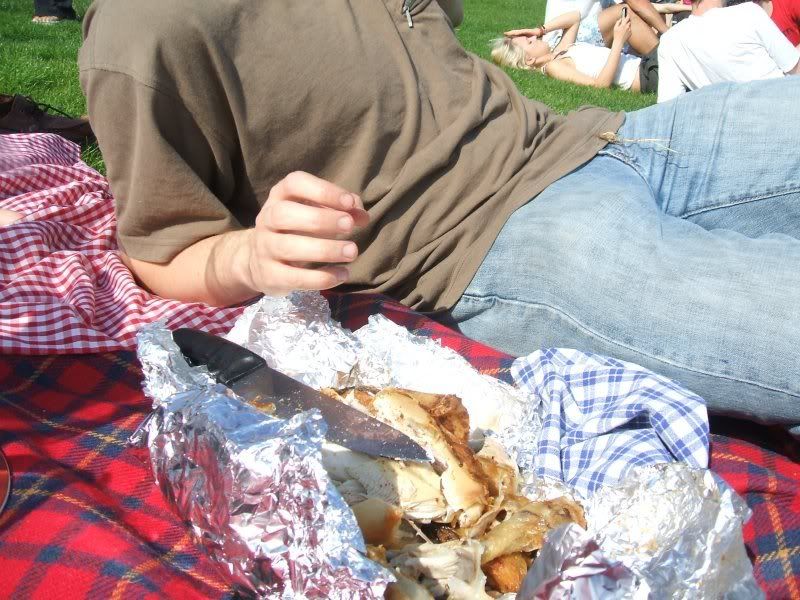 M: I'll show you how to carve a chicken you ignorant English... Oh, to hell with it, tear it apart with your fingers.
with mixed baby leaf salad, baguette with Ardennes pate, goats' cheese with garlic and pepper, and salami, and fig, pancetta and dolcelatte puff pastry tartlets. I wasn't terribly impressed with the combination -- I'm sure there are nicer things to put in puff pastry. (No, I didn't make the pastry. If I'd had a little longer to prepare... maybe.)

For dessert I made my signature shortbread tartlets with lemon cream and strawberries: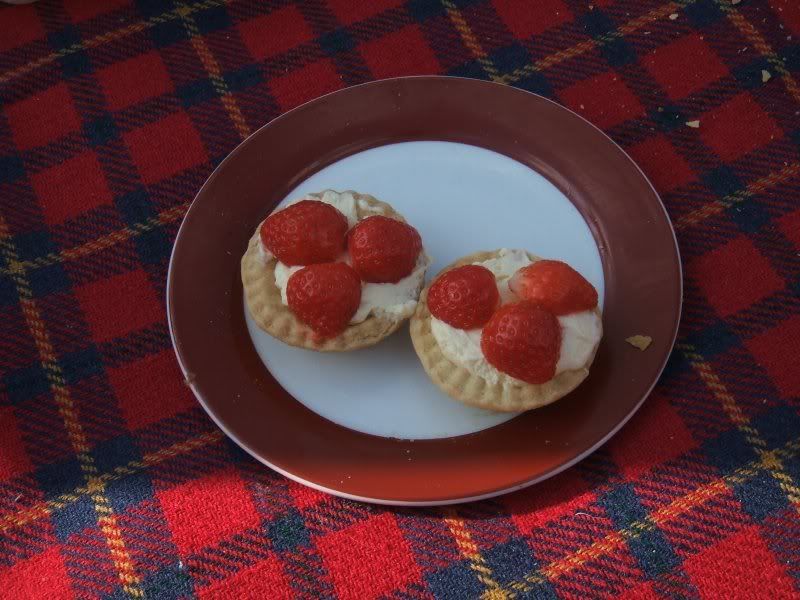 Though some had to buck the trend and use raspberries: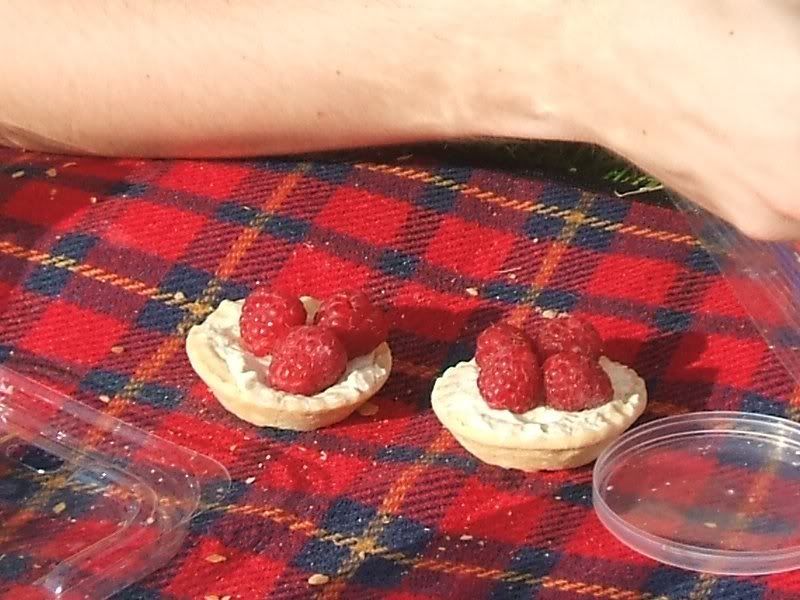 I also made mini pavlovas with strawberries, raspberries and passionfruit: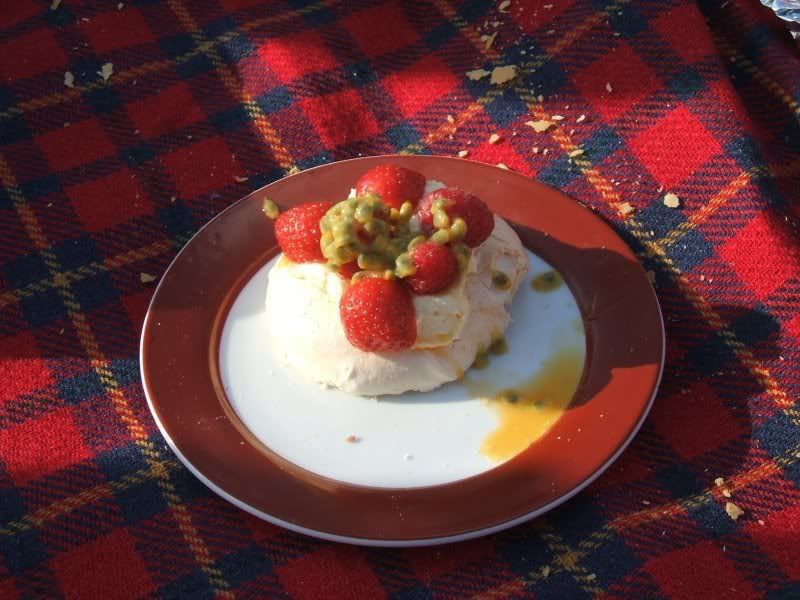 (They actually travelled quite well, because they just fitted into a tupperware. I was going to make little meringue nests with meringue cuite, but I'm glad I went with the pavlovas as they were lovely and marshmallowy.)

We drank Pimm's: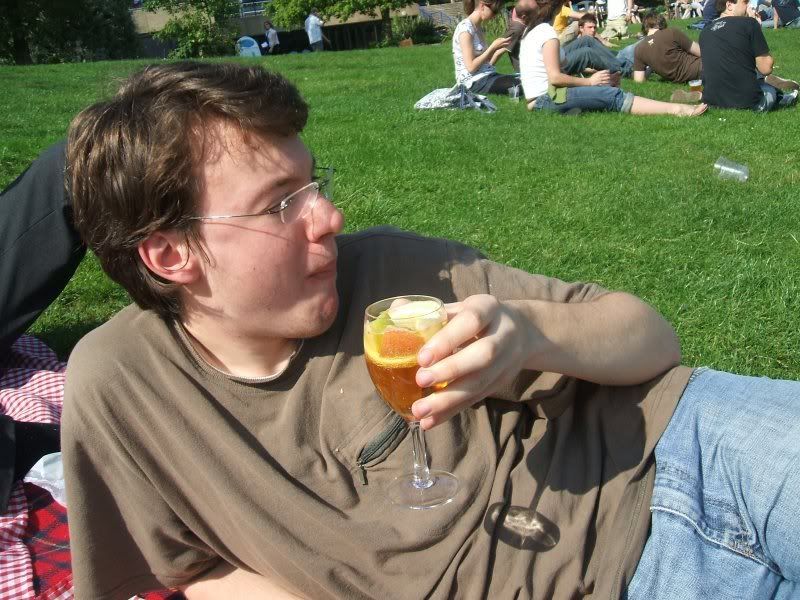 and rose, although most of that got tipped on the picnic blanket. I wanted to get another bottle of Champagne (Veuve Cliquot NV, mmm) but I was firmly vetoed on this point (that would be the fifth bottle in about three weeks... we've had a lot to celebrate). Lemonade and Ginger Beer, although I couldn't get traditional-style lemonade. I had a thermos of hot water and ground coffee, but I forgot the cafetiere. (Grrr. And I forgot the cherry tomatoes and a damp cloth. Terrible organisation.) I would have taken the milk frother and made cappuccino, but I stood it in water while I was cleaning it and it's currently not working... We did have a teapot and a variety of teas, but we never got around to that.

All in all we fed 14, I think, coming and going. Most of these were actually friends of mine completely unrelated to the society, but there was plenty of food and I would have hated for any of it to go to waste...

It was a lovely afternoon, but all good things come to an end and we had to lug the remains back on the bus.